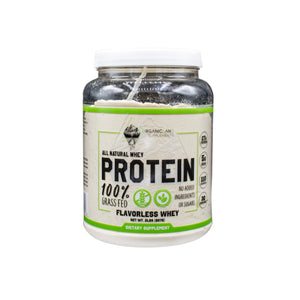 OrganicLand All Natural Whey Protein is commonly used to improve athletic performance, to increase lean muscle mass, strength and endurance for all levels of athletes. OrganicLand natural Whey Protein powder is easy to digest & convenient. Our Whey Protein is flavorless so you can mix & match. We have five flavor options so you're not stuck with just one until your huge jar of protein is gone.
Available flavors: Banana, Cinnamon Roll, Strawberry, Pumpkin Pie & Vanilla  


OrganicLand Whey is derived from the milk of New Zealand grass fed dairy cows that are able to graze pastures year round. These cows are not subjected to feedlots and are treated humanely. OrganicLand delivers the purest form of Whey protein on the market!
 

---
ORGANICLAND WHEY IS READY IN 
LESS THAN A MINUTE
Mix one to two scoop(s) into 6-8 oz of water or beverage of choice. Mix thoroughly. For smoothies add ice and mix into blender. Best when consumed within 30 minutes of post workout.
OrganicLand Quality Promise
We are our own customer. All OrganicLand products are carefully sourced with the finest ingredients and rigorously tested for efficacy, purity, and safety