Healthy Thanksgiving Recipes
HEALTHY THANKSGIVING RECIPES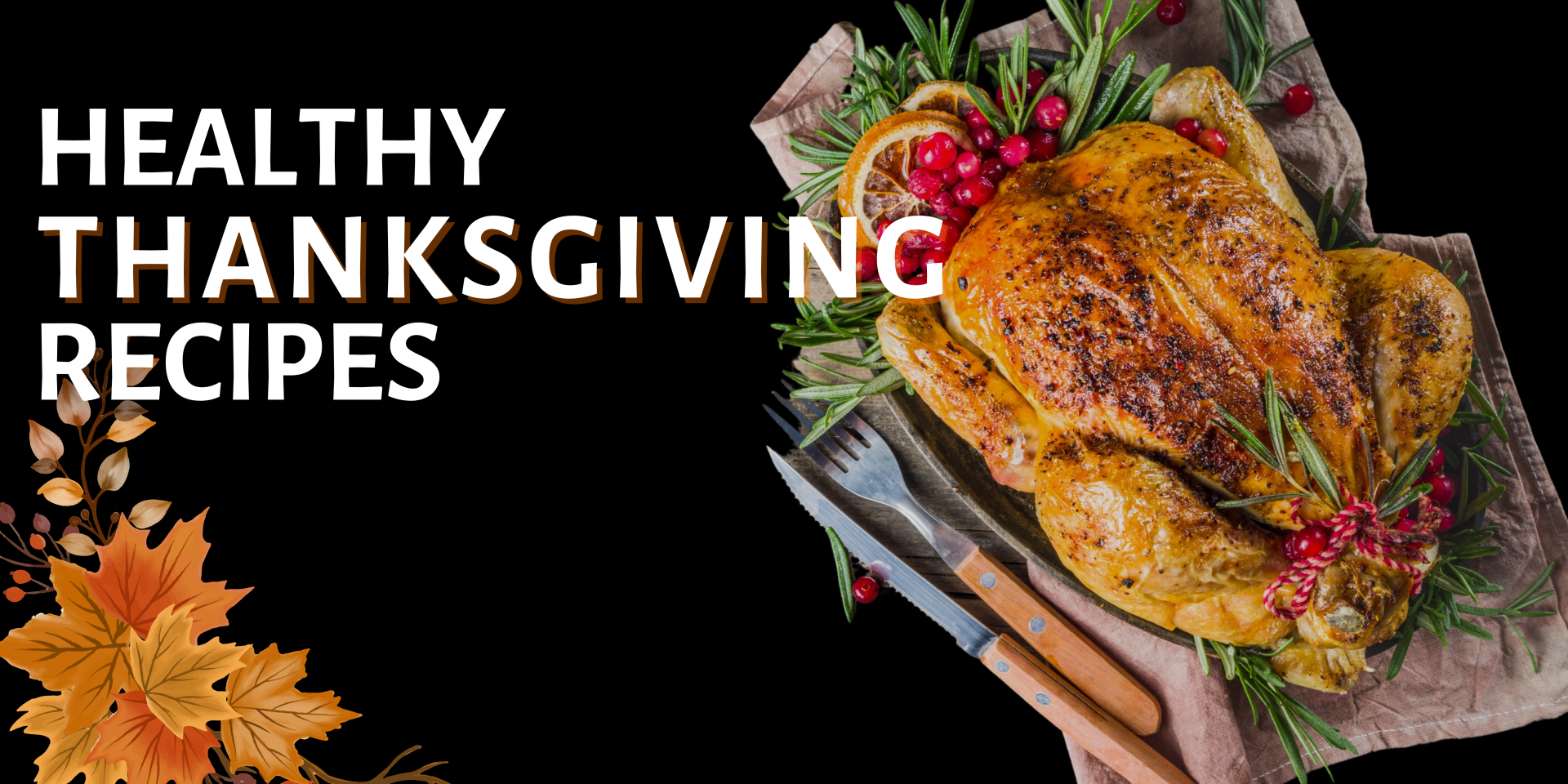 Whether you're trying to stay on track with health and fitness goals or don't want to walk away from the Thanksgiving table feeling as stuffed as the turkey, we've got healthier, lighter options to add to your feast this Thanksgiving. 

Bon appétit!
Slow-Cooker Curried Butternut Squash Soup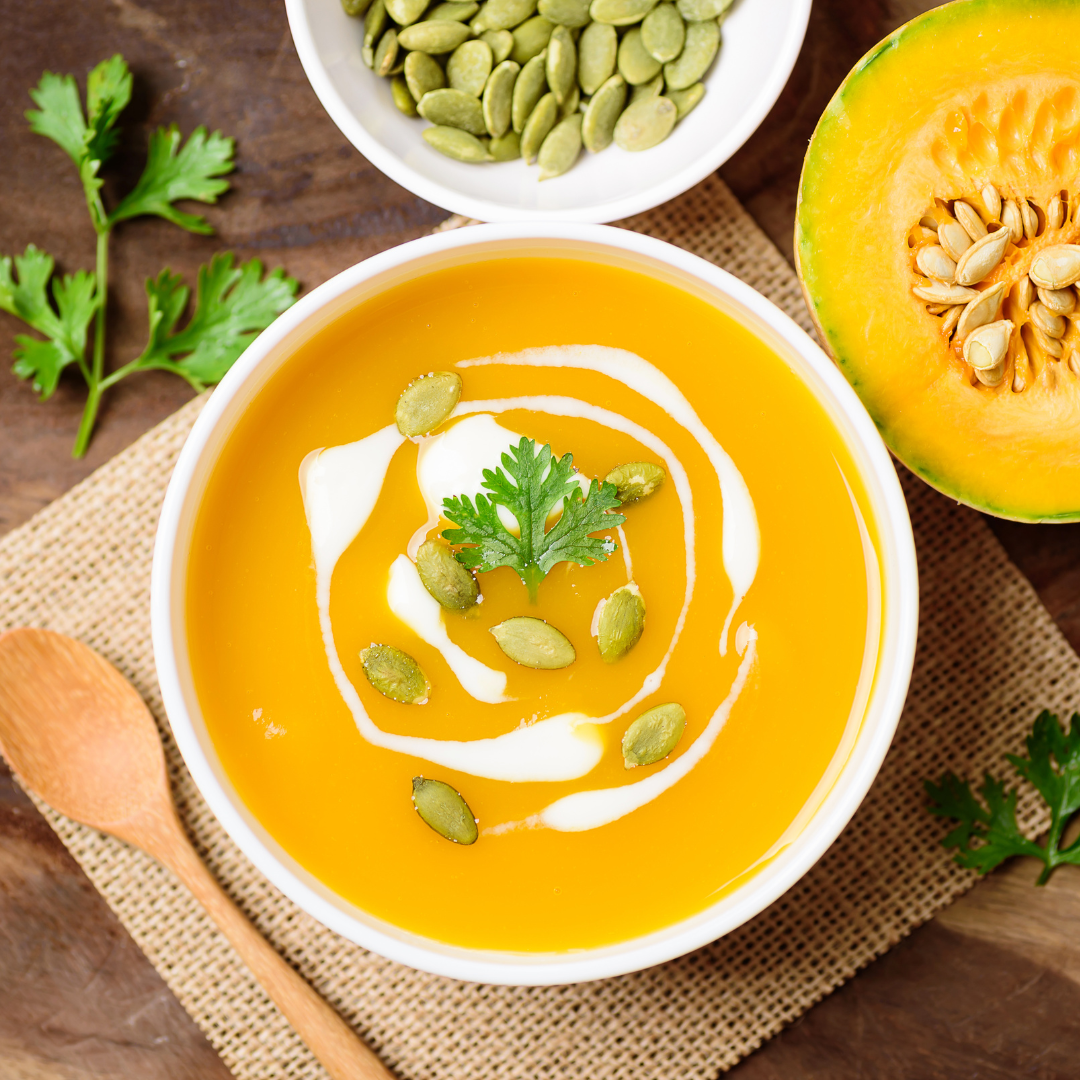 Ingredients
1 medium butternut squash (2-2 1/2 pounds), peeled, seeded, and cubed (about 5 cups)

3 cups of vegetable broth

1 medium white onion, chopped 

4 teaspoons curry powder

½ teaspoon garlic powder

¾ teaspoon salt

1 (14 ounces) can of unsweetened coconut milk

1-2 tablespoons lime juice, plus wedges for serving

Chopped fresh cilantro for garnish

Instructions 
Stir squash, broth, onion, curry powder, garlic powder, and salt together in a 5-quart slow cooker.

 Cover and cook until the vegetables are very tender, 7 hours on Low or 3 1/2 hours on High. 

Turn off the heat and stir in coconut milk and lime juice to taste. 

Puree with an immersion blender until smooth. 

Garnish with cilantro.
Sautéed Brussels Sprouts with Bacon & Onions
Ingredients
2 ½ pounds Brussels sprouts, trimmed

4 slices bacon, cut into 1-inch pieces

1 tablespoon extra-virgin olive oil

1 large white onion, diced

4 sprigs of thyme, plus 2 teaspoons of leaves, divided

1 teaspoon salt

Freshly ground pepper to taste

2 teaspoons lemon juice (optional)

Instructions 
Bring a large pot of water to a boil. If sprouts are small, cut them in half; otherwise, cut them into quarters. Cook the sprouts until barely tender, 3 to 5 minutes. Drain.

Cook bacon in a large, heavy skillet over medium heat, stirring, until brown but not crisp, 3 to 6 minutes. 

Remove bacon to drain on a paper towel. Pour out all but about 1 tablespoon of bacon fat from the pan.

Add oil to the pan and heat over medium heat. 

Add onion and cook, often stirring, until soft but not browned, reducing the heat if necessary, about 4 minutes. 

Stir in thyme sprigs, salt, and pepper. 

Increase heat to medium-high, add the Brussels sprouts, and cook, tossing or occasionally stirring, until tender and warmed through, about 3 minutes. 

Remove the herb sprigs. 

Add the bacon, thyme leaves, and lemon juice, if using, and toss.

Serve immediately while warm.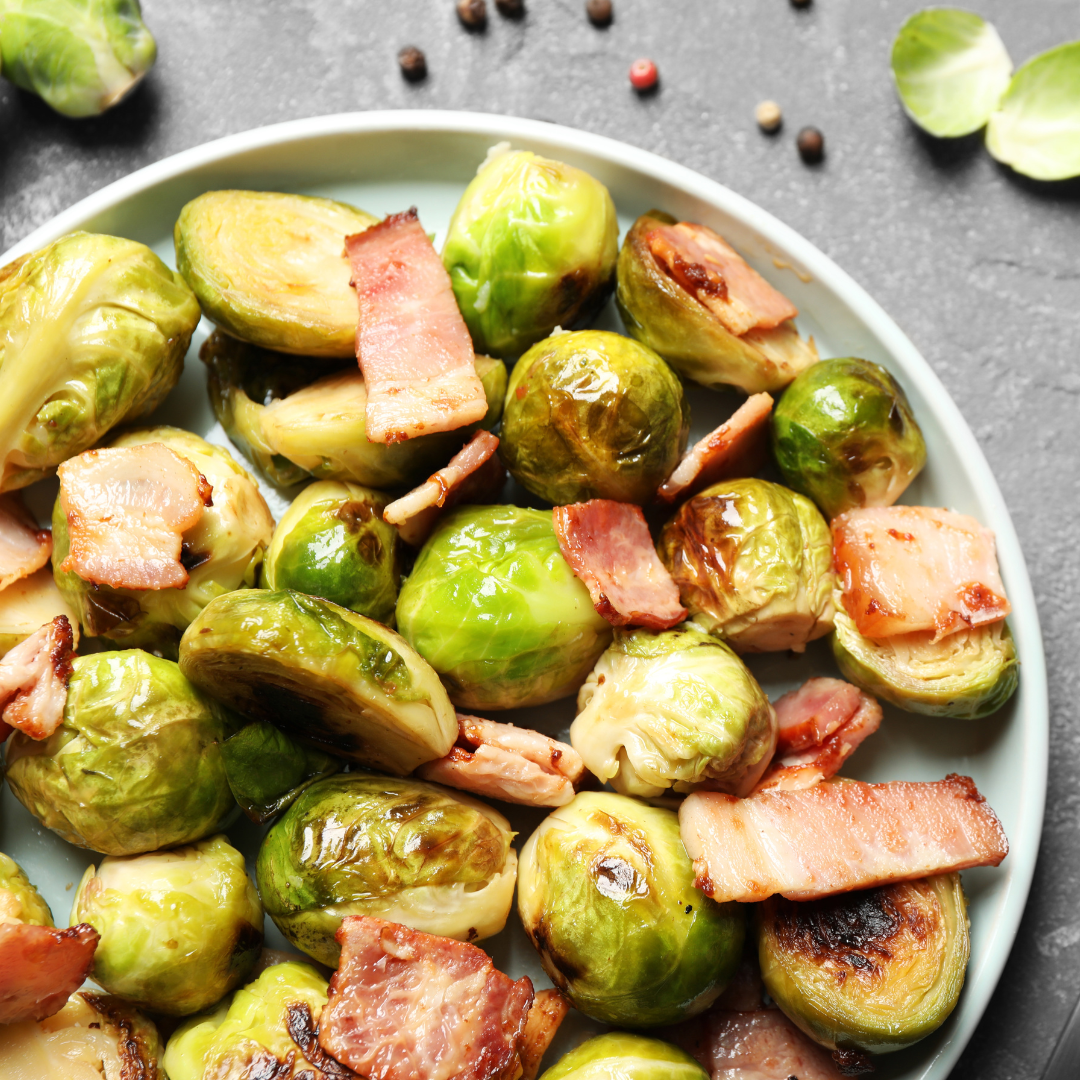 Healthy Green Bean Casserole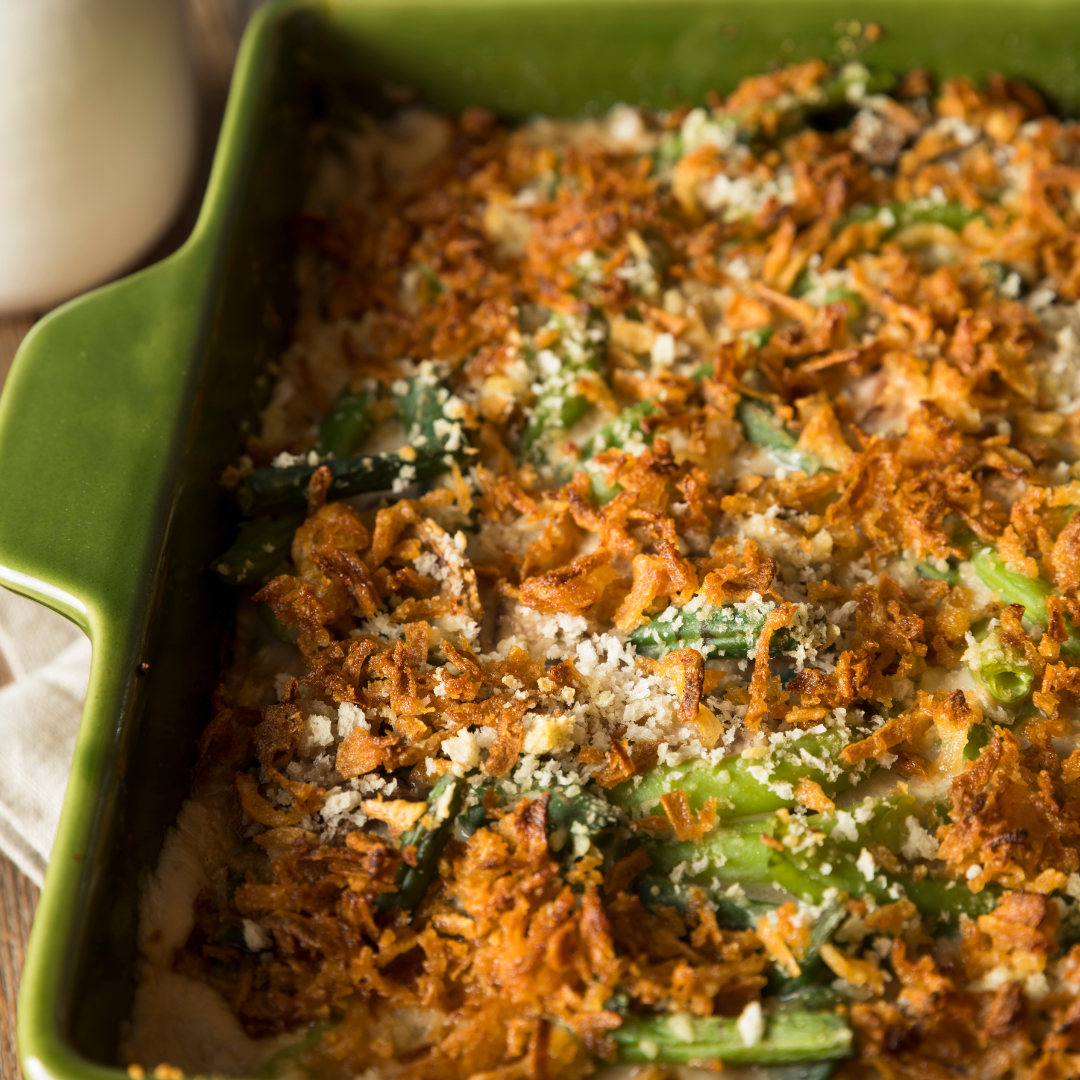 Ingredients
1 1/2 pounds fresh green beans trimmed

1/3 cup olive oil divided

10 ounces cremini mushrooms sliced

1 small onion diced

1 teaspoon tamari soy sauce or coconut aminos

3 cloves garlic minced

1/2 cup chicken broth or vegetable broth 

1 1/2 cups almond milk, cashew milk, or other dairy-free milk

Salt and pepper to taste

2 tablespoon arrowroot powder

4-5 shallots thinly sliced into rings

Instructions
Preheat the oven to 375 F. 

Bring a large pot of water to a boil and add the green beans. Blanch the green beans for 4-5 minutes or until slightly tender but still crisp.

Immediately transfer the green beans to an ice water bath, drain, and set aside.

Heat two tablespoons of olive oil on medium-high heat in a large pan. Add the diced onion and sliced mushrooms and cook for 8-10 minutes or until soft.

Stir in the tamari soy sauce, minced garlic, salt, and pepper. Then add the chicken broth and milk, and simmer for 5 minutes.

Make a slurry by stirring the arrowroot powder with 2 tablespoons of water in a small bowl. Turn off the stove, pour the slurry into the pan, and stir until the sauce has thickened.

Transfer about 1/3 of the mushroom sauce to a baking pan, add the green beans on top, then top with the remaining sauce. 

Bake for 10-15 minutes or until warmed through.

While the green beans are baking, add the sliced shallots to a pan with 1/4 cup or so of olive oil. Heat on medium-high heat for 5 minutes, stirring the shallots, then reduce the heat to low and cook for another 3-4 minutes. Keep a close eye on the shallots after 7-8 minutes, as they go from golden to burned very quickly.

Once the shallots are lightly golden, remove them to a paper towel-lined plate.

Remove the green bean casserole from the oven, top it with the crispy shallots and serve.
Herb-Roasted Turkey Breast
Ingredients
1 whole bone-in turkey breast, 6 1/2 to 7 pounds

1 tablespoon minced garlic (3 cloves)

2 teaspoons dry mustard

1 tablespoon chopped fresh rosemary leaves

1 tablespoon chopped fresh sage leaves

1 teaspoon chopped fresh thyme leaves

2 teaspoons kosher salt

1 teaspoon freshly ground black pepper

2 tablespoons good olive oil

2 tablespoons squeezed lemon juice

1 cup dry white wine

Instructions 
Preheat the oven to 325 degrees F. 

Place the turkey breast, skin side up, on a rack in a roasting pan.

In a small bowl, combine the garlic, mustard, herbs, salt, pepper, olive oil, and lemon juice to make a paste. Loosen the skin from the meat gently with your fingers and smear half of the paste directly on the meat. Spread the remaining paste evenly on the skin. Pour the wine into the bottom of the roasting pan.

Roast the turkey for 1 3/4 to 2 hours until the skin is golden brown. An instant-read thermometer registers 165 degrees F when inserted into the thickest and meatiest areas of the breast. (I test in several places.) If the skin is over-browning, cover the breast loosely with aluminum foil. Cover with foil when the turkey is done, and allow it to rest at room temperature for 15 minutes. Slice and serve with the pan juices spooned over the turkey.